A zipper is made up of several parts that work together to open and close the smock. Here's an illustration showing the different parts of a zipper: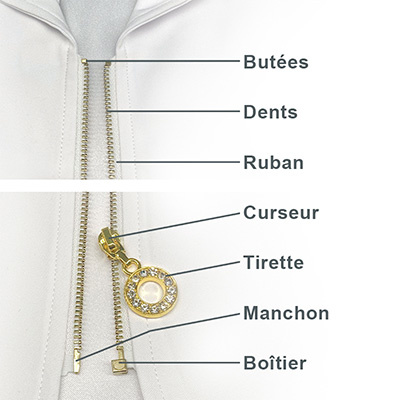 Housing: This metal or plastic part is attached to one of the two edges of the opening and contains the zipper teeth.
Sleeve: This metal or plastic part is attached to the other edge of the opening and serves to guide the slider.
Slider: This small button is used to open and close the garment. It is moved by means of a pull tab, which is often also decorative.
Teeth: Teeth are metal or plastic elements attached to the ribbon, which the slider interlocks to keep the opening closed.
Stop: This small piece of metal or plastic at the end of the zipper prevents the slider from sliding off the tape.
Proper use of zippers
Difficult cursor operation:
Don't force the slider if it doesn't move smoothly; instead, apply kerosene or wax (a cake candle will do) to the front and rear surfaces of the elements, then move the slider up and down to regain smooth operation.
Fabric caught in the cursor
The fabric may become jammed and interfere with operation. Move the slider slowly while pulling the jammed fabric. Please leave enough space for the slider to move smoothly when sewing the zipper onto the fabric.
Proper washing procedure
Be sure to close all zippers completely when using washers/dryers. Incompletely closed zippers can become entangled with other items, causing damage to the teeth, slider or fabric of the other item. Long or thin sliding tabs can get caught in drum holes, causing breakage, so it's recommended to remove removable pull tabs or use a laundry net for these items. After drying, do not use the zipper until the temperature of the garment has returned to normal, especially if it is made of plastic.
Two-way zipper

At closing:
1. Pull the upper cursor down until it touches the lower cursor.
2. Insert the sleeve at the very bottom of the lower slider. (Incomplete insertion may cause problems).
3. Pull the upper slider with your hand.
At the opening
1. Pull the slider all the way down, until it touches the lower slider.
2. Gently pull back the sleeve with your hand.

By following these care tips, you should be able to extend the life of your zippers and use them with confidence. Don't forget to replace them when they start to show signs of wear.